New business development manager for oil and gas subdivision
Published: 27 July, 2022
adi Group, a leading engineering and construction business has announced it is continuing to expand both its service offering and its team in the form of a new senior appointment.
Mo Ahmed has joined the firm as a business development manager for the oil and gas sector, forming a new subdivision of adi Projects.
The company says with nearly two decades of experience working across the UK and Ireland process industries, Mo has a solid technical background in engineering as well as strong commercial acumen, having worked in various senior business development management and sales roles.
Mo has over 12 years' experience working in the downstream oil industry, during which he gained in-depth knowledge of various engineered systems including terminal automation systems, automatic tank gauging systems, chemical injection systems, biofuel blending and custody transfer metering systems.
His new role will see him continue to develop strong working relationships across the industry as well as focusing on emerging alternative fuel technologies.
Mo said of his new appointment: "I am excited to be working with adi Group to develop our already robust position within the downstream oil sector and expand our reach further to target more customers around the country."
Mo has previously secured notable contracts and repeat business with key industry players and operators, as well as developing and securing long-term service strategies.
Working in the downstream oil sector also requires a strong commitment to security and compliance with industry standards and guidelines.
"I am incredibly proud to have been given the opportunity to work with a leading engineering company that believes in investing in the future of engineering, and a socially responsible business that continuously strives to do the very best for its employees, its clients and the world we live in," says Mo.
Mo is particularly eager to work with a business with a unique ability to meet customers' needs by providing end-to-end, turnkey solutions.
James Sopwith, strategic account director at adi Group, is thrilled to welcome Mo on board: "I have no doubt that Mo will be able to take our Oil and Gas subdivision from strength to strength with his dedication and experience.
"At adi, we take pride in the passion and commitment that drives our workforce, and constantly strive to recruit individuals that can propel the business to new heights."
And the Group believes Mo will be able to do just that, by utilising his extensive knowledge and his many talents to grow the subdivision and help them achieve its targets.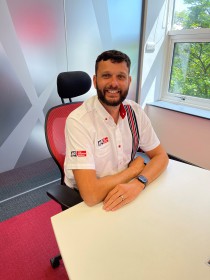 Mo Ahmed