Headline News
ORE Catapult highlights that by 2050, the global robotics market in the energy sector will be worth £8.4bn. With its high-growth forecasts, wind energy (onshore and offshore) is expected to open up a new robotics frontier that will be valued at £1.3bn by 2030, increasing to £3.5bn by 2050. Meanwhile, declining production will see the oil and gas market's robotics market peak at £5bn in 2030, before reducing to £3.3bn by 2050.
In Focus
ADC Energy, a specialist provider of dynamic integrated rig inspections, has announced it has secured a contract with a US-based global infrastructure organisation, as the business accelerates its strategic diversification plan.
Penspen, a leading global energy services company, has announced it has recorded a highly successful year to date in the Middle East and Africa with a strong performance forecast for the rest of the year.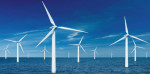 The risks of climate change now need little introduction. We are already starting to live with the impacts of a changing climate on communities, businesses and supply chains. The most recent Intergovernmental Panel on Climate Change (IPCC) report delivered the unnerving news that we now have less than a 9-year window to act on climate and limit global warming to 1.5 degrees Celsius. It made plain that limiting warming to 2°C will not be enough to prevent the most serious impacts.
Marine engineering and propulsion specialist Royston has announced it has completed the rapid turnaround of service work on diesel power plant systems on-board a Global Offshore operated offshore support vessel.
Below are details  for  Webinars and Events  for Renewable UK in 2021
Video of the month
Editor's Comment
Britain's manufacturers are beginning to move through the gears as growth prospects become more positive for the rest of the year! This was according to a major survey published by Make UK, which gives many manufacturers hope that that light is starting to appear at the end of the tunnel. While we must all be cautious as there are numerous things that could throw a spanner in the works, this nevertheless provides an indication of the positive attitudes that are beginning to take hold with the UK manufacturing sector.
As the UK begins to come out of lockdown, recent surveys highlight how a post-COVID-19 world might look like. Many manufacturers according to One World Express, may look to expand into new global markets, and not rely on any one single market as previously. The lockdown has also opened up opportunities by selling to new demographically diverse customers which may continue beyond the pandemic.
This unprecedented period in all our lives has highlighted the importance of UK manufacturing to not only the economic prosperity of our country but also the societal significance of the sector. The Prime Minister's recent call on the UK's manufacturers to help step up production of vital medical equipment, such as ventilators illustrates this. Responding to coronavirus and reducing the spread of the peak requires a national effort, and UK manufacturers are rising to the task in ways that were never thought feasible.
Product & Services Directory Suppliers
Sign up for the OEE newsletter
Last issue
View the latest issue here.
View the
past issue archive
here
.
Media pack
View the OEE - Offshore Engineering & Equipment Media Pack and find contacts here.
Events Diary