New fall protect system
Published: 16 July, 2021
Improved location and protection of people working at height in the 'red zone' in the offshore oil and gas-drilling sector has been provided by a new industrial safety system from Salunda.
Providing the latest in high performance real-time tracking capabilities, the Crew Hawk Fall Protect system tracks the location of people working at height on rig derricks, ensuring that their PPE harnesses are correctly secured to a fall arrest hook prior to entering the monkey board and fingerboard zones.
This provides information used to manage people better in hazardous zones, reducing the risk of workplace injuries and accidents, and ensuring that only rope access certified personnel can leave the walkways and safe areas during production times or for equipment maintenance purposes.
Crew Hawk Fall Protect features a compact, robust and intrinsically safe wearable tracking device and unobtrusive harness mount that attaches quickly and easily to the chest strap to detect the presence of appropriate PPE. A hook tag is connected to confirm that the harness is secured safely to the fall arrest hook - an audio and visual alarm will sound if it is not and the operative will not be able to move to working areas at height without permission until they are safely connected.
ATEX and IECEx certified, Crew Hawk Fall Protect operates on Salunda's patent protected Hawk wireless network. This is designed to operate with optimum functionality in harsh and cluttered environments where there are regular changes to propagation paths - for example, equipment movements and relocation blocking transmission paths. Locators do not require line-of-sight connectivity to communicate effectively with the network, ensuring there is no drop off in signal strength or loss of message status, contributing further to improved safety levels.
An easy-to-use interface allows swift set-up to create a digital map of operatives' locations in the 'red zone' that can be easily understood and monitored on a portable smart device. This provides enhanced working at height safety performance in critical sections during different operational, maintenance and upgrade activities.
Crew Hawk Fall Protect is already operational in Australia and following performance validation, systems will be rolled out across the global offshore oilfield-drilling sector, including South America, Middle East and Asia.
Alan Finlay, CEO at Salunda, said: "Safety is always of paramount importance in offshore oil and gas operations. New Crew Hawk Fall Protect not only delivers reliable oversight of critical working at height functions on rigs, but also a highly effective digital PPE compliance checklist that people can trust and rely upon to drive the highest safety standards."
Salunda has established a reputation as experts in rapidly delivering robust monitoring solutions for harsh environments, which ensure a safer workplace, improve efficiency, and reduce non-productive time during drilling.
More details at www.salunda.com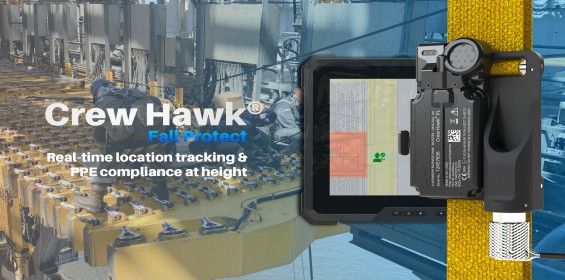 New Crew Hawk Fall Protect from Salunda for improved location and protection of people working at height in the 'red zone'