Energy specialist chooses Sunderland for UK HQ
Published: 24 May, 2023
A GLOBAL renewable energy business with operations in eight countries has announced it has opened its first UK headquarters, in the North East of England.
Endiprev, provides commissioning, servicing and troubleshooting support to wind farm operators across the globe, has opened a new regional head office in Sunderland.
Mark Forrest, Managing Director of Endiprev UK, said: "The decision to invest in the North East was really down to our shareholders based in Portugal. The UK market is one that is experiencing significant growth and opening a subsidiary within the UK aligned with the group strategy."
The company is currently overseeing a recruitment drive within the North East and plans on increasing headcount significantly over the next three years, including creating over a dozen apprenticeship opportunities.
"We've recently been awarded a couple of contracts within the UK and specifically the North East, meaning the time had come to establish the UK operation," he added.
"After being shown around multiple areas, they realised there was a real opportunity for the North East to establish itself as a stronghold for renewable energy and they felt it was the right place to setup as Endiprev UK.
"The region is fast-establishing itself as a world-leader in renewable energy and the move to Sunderland's West Quay puts us right at the heart of this growing hub.
"It's right on the doorstep of some of the world's largest offshore wind developments and has a great workforce to tap into. It's perfect for a business like ours."
Endiprev UK has already established a team of technicians to work from its new UK head office but has plans to create a further 40 full time jobs over the next 12 months. This includes a number of maintenance technicians to work on their upcoming UK projects, office staff and engineers.
The company is also currently in discussions with Newcastle College's Energy Academy to take on three apprentice wind turbine technicians next year, with a view of ramping up its intake following the onboarding of its first cohort.
Forrest added: "The North East's rich industrial heritage means the region is home to a huge community of skilled engineers who have gone on to work across the globe, resulting in a vast talent pool for businesses like ours to tap into.
"It is also fortunate to be home to a number of forward-thinking training providers and colleges who have been quick to realise the benefits of ensuring that young people have the skills required to embrace the green jobs of tomorrow and this was another huge draw for us.
"We already have fantastic relationships with most of the world's leading energy providers and by teaming up with the Energy Academy at Newcastle College, we'll be able to provide the training and work opportunities for those young people wanting to work in the green industries and secure a career in a really rewarding industry."
Endiprev received support from the business investment team at Sunderland City Council who showed them around numerous sites before they finally agreed to take up space at Quay West.
"The business investment team have been fantastic, and I can't thank them enough for their support," he added. "They helped us find the perfect premises, understand more about the regional economy and signpost us to other organisations who could support us. I don't think I'd have received that level of support anywhere else."
Cllr Graeme Miller, Leader of Sunderland City Council, said: "We are thrilled that Endiprev has chosen to invest in the city.
"Over recent years, we've invested heavily into ensuring Sunderland is best placed to capitalise on the growing green economy and this has already led to businesses from across the globe investing hundreds of millions of pounds here.
"From Wastefront, Quantafuel and Brineflow at the Port of Sunderland to the Envision gigafactory, Sunderland is fast establishing itself as a desirable place for those in the green industries to do business and we are overjoyed to be able to now be able to add Endiprev to that ever-growing list."
For more information on Endiprev, visit: https://www.endiprev.com/en/
https://www.linkedin.com/company/endiprev/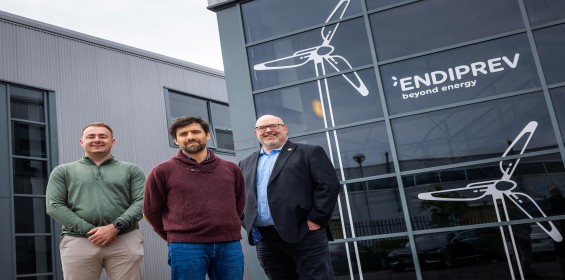 (l-r) Mark Forrest, Managing Director of Endiprev UK, Carlos Goncalves, Operations Manager and Cllr Graeme Miller, Leader of Sunderland City Council.