Premier offshore energy event
Published: 02 November, 2022
OSEA (Offshore Southeast Asia), the largest offshore energy event in Asia will take place on 15 to 17 November in Marina Bay Sands Singapore, with 12,000 attendees from over 60 nations and regions for three days. It will outline the energy sector's key challenges and opportunities and showcase the technology that will influence the future of the oil & gas, as well as renewables industries as the energy transition accelerates (see Annex A: OSEA 2022 Conference Day Themes and Agenda).
Government and Offshore Industry experts will be welcomed by Ms Low Yen Ling, Minister of State, Ministry of Trade & Industry for the Opening Ceremony on 15 November. Delegates will join to discuss how the changing energy security landscape will affect the balance of offshore investment between oil & gas and renewable energy; the role of government policy in supporting decarbonisation in the oil & gas industry; opportunities for learning between oil & gas and renewables; and how digital technologies can be harnessed to decarbonise the sector.
Speaking about the upcoming event, Professor Chan Eng Soon, chairman of the OSEA Steering Committee and CEO of Technology Centre for Offshore & Marine, Singapore (TCOMS) (pictured) said, "This year's conference and tradeshow come at an opportune time as our region reopens after the pandemic, and the sector focuses on the coming energy transition. We look forward to debates around the transition, offshore renewables, and in particular, progress on technology, digitalisation, and operational practices that will help the offshore energy industry move towards sustainability." (see Annex B: OSEA 2022 Steering Committee)
The OSEA exhibition and conference is an important meeting point for Asia's offshore industry. It will bring together executives across the innovation chain, from innovators and start-ups to incubators and accelerators at TechX@OSEA. In an era where the oil & gas industry is exploring strategies for delivering the industry's net-zero ambitions, OSEA will be hosting a Talent & Skills Development Pavilion to showcase near and longer-term job prospects.
It is beyond doubt that the oil & gas industry needs to adopt technologies such as electrification and carbon capture in order to develop as a net-zero industry. Central to this is the industry's ability to ensure it can continue to supply essential products for industrial uses.
Visitors to the event will be able to experience and evaluate the products and solutions that will help the sector realise this transition. Through by-invite high-level networking sessions at OSEA Executive Networking Sessions, senior executives will be able to initiate dialogue and network with Asia's most important energy decision makers.
Commenting on the opportunities for attendees, Sukumar Verma, managing director, Maritime & Energy for Informa Markets, said, "OSEA offers a unique marketplace for knowledge and networking for the offshore energy industry, this is a one stop shop for visitors, where they can meet new clients, grow their business and expand their solutions to cater to new opportunities in offshore renewables, digitalisation and decarbonisation."
For more information on OSEA 2022, please visit www.osea-asia.com.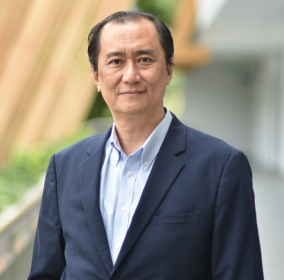 Professor Chan Eng Soon, Chairman of the OSEA Steering Committee and CEO of Technology Centre for Offshore & Marine, Singapore (TCOMS)