Data analytics and forecasting solution makes debut on North Star's Dogger Bank bound SOV fleet
Published: 11 May, 2022
MO4 has  announced it has secured a 10-year contract with North Star for its new propriety digital twin and artificial intelligence (AI) decision support software package, which will be utilised on all four of its service operations vessel (SOV) fleet.
The four hybrid-powered ships are bound for the Dogger Bank Wind Farm, which is being developed by joint partners Equinor, SSE Renewables and Eni, and will be operated by Equinor throughout the project's anticipated 35 year lifespan.
MO4's technology will provide operational data analytics and forecasting support to help drive efficiencies across the fleet including lower carbon emissions through reduced fuel usage.
Aligned to North Star's objective to aim 'above and beyond' with respect to SOV industry standards, MO4's user friendly and highly accurate solution will ensure operations are performed continuously within safety limits across its fleet but without excess conservatism and thereby making a step-change in operational efficiency.
The digital solution gathers data on influential areas such as weather fronts, workloads, work routes and drop-off schedules to help make informed decisions. As all four vessels will be monitored and harmonised, the ongoing AI learning will also help to increase in-field efficiencies further.
MO4 co-founder Mark Paalvast said: "The cooperation between North Star and MO4 focusses on harvesting the benefits of digitalisation of marine operations. MO4's claim to 'looking backward to learn, looking forward to optimise' by using data driven solutions, matches perfectly with North Star's ambition to become a key player of top tier wind farm support vessel contractors in the UK and Europe.
"Adopting a completely new method with respect to the decision making in offshore operations has put MO4 at the brink of a game-changing development. We are proud of our achievements so far and there is much more to come from our team in the near future."
North Star's renewables director Andrew Duncan added: "Partnerships with technology providers is core to the strength of North Star's SOV service. Our aim is to act as an integrator of innovations which are leading the way in their individual fields to enhance operability, sustainability and safety across our SOV fleet while offering supreme comfort on board for wind technicians.
"As part of this strategy, our technology partners MO4, have developed a ground-breaking, digital twin and AI decision-making software package that will allow us to deliver substantial efficiencies and low CO2 emissions across our state-of-the-art hybrid powered SOV fleet."
MO4, 2019 winner of the Offshore-Wind-Innovators, is a SaaS company providing a digital twin solution for offshore wind farm O&M and turbine and installation vessels.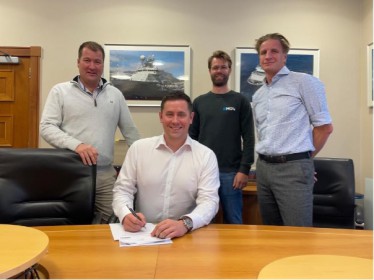 From left to right, North Star's Andrew Duncan and Fraser Dobbie, with MO4's Mark Paalvast, Jelte Kymmell