'Ground breaking' European offshore carbon capture project
Published: 14 July, 2021
UK-based oil and gas subsea equipment specialist Express Engineering has announced it has been specified for a ground-breaking initiative that could significantly improve the decarbonisation of industrial emissions and ease the removal of harmful gases from the environment.
The development, which has the backing of the Norwegian government, sees Express Engineering participating in a long-term environmental project that will allow liquefied CO2 to be transported by undersea pipeline to a subsea storage facility located in the North Sea.
Involving carbon storage specialists Northern Lights and leading carbon capture technology firm Aker Carbon Capture, the project is due to become fully operational in 2024 and will allow industrial sites in Norway and companies across Europe to capture and store their carbon emissions safely and permanently deep under the seabed off the Norwegian coast.
Express Engineering, which recently opened a new 48,000 sq. ft. purpose-built test and assembly centre in Gateshead in the North East of England, is supplying subsea actuators, which are being shipped to Aker Solutions' plant in Curitiba, Brazil, where they will be installed on to the master valve block on a new sub-sea tree that will control the pipeline.
When initial trials start in 2022, the actuators will form an integral part of the flow control system when injecting the CO2 in to a redundant well - the subsea system has been specifically adapted to reverse the flow to lock in carbon gases below the sea floor rather operate in their usual role supporting the extraction of oil and gas.
Equinor, Shell and Total are all investors in Northern Lights - Norway's first licenced operator for CO2 storage on the Northern Continental Shelf and a major part of the Norwegian government's 'Longship' carbon capture initiative.
The project is part of Express Engineering's move to position itself further in developing cost effective solutions for the global energy transition sector. Gary Thirlwell, managing director, said: "We are working in partnership with our customers to harness our subsea engineering capabilities and experience on ground breaking projects such as this one, where we can provide rapid turnaround solutions to help meet the many tough environmental challenges that we all face.
"It's great to be involved in the Northern Lights initiative - the first of its type in Europe - where we are utilising our capabilities and actuator technology. It takes Express Engineering further into the exciting carbon capture arena, allowing us to invest in securing a cleaner environment while opening up new green opportunities for our technologies in the global market for advanced engineering solutions."
Express Engineering is a leading manufacturing, assembly and testing specialist for the subsea energy sector. Working with customers like TechnipFMC, Baker Hughes and Aker Solutions, the company is a significant exporter of products, operating within various geographical areas, including the North Sea, Gulf of Mexico, east coast of Brazil, east and west coasts of Africa and Australasia.
More at https://northernlightsccs.com and https://express-engineering.co.uk/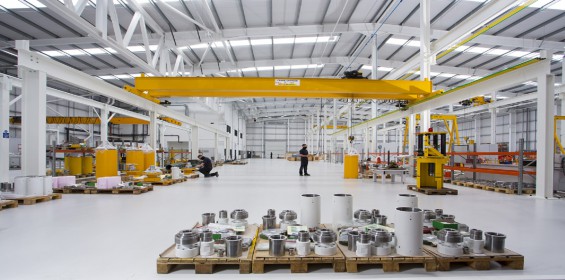 Express Engineering's actuators have been specified for a new subsea carbon capture initiative