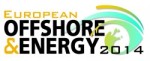 European Offshore & Energy set to make waves in 2014
Published: 19 February, 2014
With only a few weeks to go until European Offshore & Energy Exhibition, event organiser DFA Media is optimistic the show will exceed expectations.
DFA (Energy) Media has launched a major new exhibition and conference, European Offshore & Energy (NEC Hall 3/3A, Birmingham, 8-10 April 2014). The new show will bring the entire upstream energy marketplace – exploration, production and energy generation – together under one roof.
The newly launched event is part of the established co-location of DFA Media exhibitions – Fluid Power & Systems, Air-Tech, Drives & Controls, and Plant & Asset Management, all to be staged at the NEC Hall 3/3A, Birmingham, from 8-10 April 2014.
Suppliers, manufacturers and service providers at European Offshore & Energy Exhibition will cover all sources of energy generation, including: oil & gas, nuclear power stations, coal/gas-fired power stations, biomass, wind farms (offshore & onshore), hydropower, geothermal power, photovoltaics, shale gas plus new technologies are being developed such as wave/tidal power and carbon capture & storage for power stations.
Just some of the products and services on display at European Offshore & Energy 2014 will include:
Bearings & chains.
Communications/computers & IT equipment.
Compressors plant and equipment
Condensers
Construction/refurbishment & repair services.
Consultancy services.
Cranes & hoists.
Decommissioning & abandonment services.
Drilling plant and equipment.
Drives, Controls & automation.
Electrical equipment.
Engineering & procurement services.
Environmental equipment.
Exploration & production drilling services.
Financial & insurance services.
Generators.
Heating, ventilation and air conditioning.
Hydraulics & pneumatics.
Marine contracting.
Material & product handling plant and equipment.
Meters & monitoring systems.
Packages – Construction & outfitting.
Petroleum technology services.
Pipes/pipelines/tubes/hoses & fittings.
Process control plant and equipment.
Research & development services.
Safety & protection equipment.
Surveying & positioning services.
Switchgear.
Tanks/vessels/columns.
Transport/supply & disposal services.
Turbines.
Turnkey systems.
In the wake of record attendance during its 2012 co-located shows, exhibition organiser DFA Media is optimistic that the addition of European Offshore & Energy to the portfolio will exceed both the exhibitor and visitor numbers of the 2012 event, which itself attracted the highest visitor numbers yet; totalling 11,146. This represented an increase of 29% from the 8624 attendance figure of the 2010 shows.
Co-location
The new exhibition will be co-located with DFA Media's established biennial shows; Drives & Controls, Plant & Asset Management, Air-Tech, together with Fluid Power & Systems. These complementary events are themselves co-located alongside MACH and National Electronics Week, creating the UK's biggest engineering event that regularly attracts over 40,000 delegates. European Offshore & Energy 2014 is also supported by DFA Media's brand new offshore related magazine, together with the publisher's long-established portfolio of titles; Hydraulics & Pneumatics, Plant & Works Engineering and Drives & Controls.
Seminar programme
As well as the extensive range of offerings to be showcased at European Offshore & Energy, the event will also feature EnergyDialogue, a three-day conference covering a host of energy issues together with product/solution analysis and debate. EnergyDialogue will ensure delegates receive all the information they need directly from leading authorities, policy makers and expert practitioners.
Conference topics include a review of Sir Ian Wood's recently published interim report (The Wood Report) revealing the economic and energy security opportunities still available from the UK's offshore oil and gas resources.
In addition Ray MacSweeney, Ernst & Young will examine the supply chain implications of the Report. Clive Evans, Deepwater EU, will discuss an innovative solution for the prevention of crevice corrosion at pipe supports. While Dr John Constable,
Renewable Energy Foundation, will debate the costs and future of offshore renewables
.
Other highlights include a discussion on safety in the wind energy sector by Steve Green of Safety Technology; Opportunities in the supply chain for marine renewables
 by Stephanie Merry, Renewable Energy Association; Unconventional Gas by Nick Grealy, NoHotAir; The future for CCS and its relevance in the EU offshore context by 
Jeff Chapman, Carbon Capture & Storage Association; "Rise of the Machines" – Predictive and Event Driven Analytics in Energy by Jonathan Guthrie, TIBCO Software, and the Impact of electricity market reform and investor issues in the offshore sector by Simon Monk, IPA Economics.
The UKTI will also feature prominently in the seminar programme for European Offshore & Energy. UKTI will highlight many of the areas it is currently working and the levels of success it is currently achieving for UK businesses including an insight into the supply chain for nuclear energy.
These are just a few of the highlights of the three-day conference. For the full and most up-to-date programme and to register please go to: www.europeanoffshoreenergy-expo.com
UK Trade & Investment to have major presence
Jim Feeney, head of UKTI's Advanced Manufacturing Events, commented on the Government Department's decision to exhibit and speak at the event: "When event organiser DFA Media approached me to consider whether I should add this event to the portfolio of events in the UK and Internationally where UKTI seek to provide a platform for international business to be done and export contracts to be won, I was immediately interested.
"The initial approach was based on UKTI's role in the oil & gas sector; a sector where we have a significant profile – and a successful role – in supporting British business from the major oil companies like Shell and BP down through each tier of the supply chain to SMEs. However my colleagues and I saw this wide-ranging engineering event as offering an opportunity broader than just oil & gas where we already have a very strong and responsive customer base."
Feeney continued: "We felt this event offered the opportunity to reach businesses which were not yet exporting and introduce them to UKTI and engage with existing exporters and introduce them to new markets. We plan to do both at the event. We will seek to highlight the work UKTI does locally, nationally and internationally and to introduce and explain the product range of support available through government networks and the business partners with whom we regularly operate.
"We will put together a strong presence at the show with the intention of assisting more companies to explore exporting for the first time, or to consider new markets, or to identify potential new customers in existing export markets with our team on site during the event. We will be able to provide details of our programme of activities across all sectors through 2014-15 and beyond and will be able to explain how and where UKTI support can fit the needs of individual companies. I am looking forward to it."
Shawn Coles, sales director at DFA (Energy) Media, said: "European Offshore & Energy is an exciting concept. The exhibition and conference, which will take place every two years, ensures that manufacturers, suppliers and service providers working across the upstream market, both offshore and onshore, can access engineers and executives in one place and at one time. Traditionally the offshore market and the onshore market have had their own events – yet they are both upstream and share many of the same technologies which will be represented at the exhibition."
Coles continued: "DFA (Energy) Media has taken the decision to launch European Offshore & Energy due to popular demand. Many of DFA's exhibitors in the co-located events supply equipment to the upstream energy marketplace. This is a logical progression for our set of events. The upstream energy market is a major buyer of drives, motors, controls, compressed air and hydraulic power systems. Add to this the ongoing task of maintaining such equipment DFA has the perfect one-stop solution for engineers working in upstream energy."
Ian Atkinson, managing director of event organiser, DFA (Energy) Media, commented: "With the launch of European Offshore & Energy, we are filling an important space in the European exhibition calendar, serving the whole upstream energy market at a single event. European Offshore & Energy has already attracted support from a number of leading organisations offering advice in this area, including: Arena Now-Norwegian Offshore Wind, Carbon Capture & Storage Association, Nuclear Industry Association, Renewable Energy Association, Renewable Energy Foundation, ShaleGasInfo.eu and UK Sustainable Development Association. This is a booming sector and we are confident that the show will very quickly establish itself as a must-attend biennial event – further bolstered by its already established and highly successful co-located exhibitions."
So, whether you are involved in oil and gas, power generation, shale gas or renewable energy, European Offshore & Energy, along with its associated exhibitions, provides a unique one-stop shop for all your information, technology and product requirements. Don't miss out on being a part of the inaugural European Offshore & Energy show and the UK's largest co-located industry event.
For more information and regular updates please visit the official website:
www.europeanoffshoreenergy-expo.com