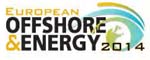 European Offshore & Energy set to make waves in 2014
Published: 18 October, 2013
A major new exhibition and conference, European Offshore & Energy will take place at the NEC, Birmingham between the 8-10 April 2014. The new show will bring the entire upstream energy marketplace – exploration, production and energy generation – together under one roof. UDEE reports.
Suppliers, manufacturers and service providers at European Offshore & Energy will cover all sources of energy generation, including: oil & gas, nuclear power stations, coal/gas-fired power stations, biomass, wind farms (offshore & onshore), hydropower, geothermal power, photovoltaics, shale gas plus new technologies are being developed such as wave/tidal power and carbon capture & storage for power stations.
Ian Atkinson, managing director and event organiser, DFA (Energy) Media, commented: "With the launch of European Offshore & Energy, we are filling an important space in the European exhibition calendar, serving the whole upstream energy market at a single event. European Offshore & Energy has already attracted support from a number of leading organisations offering advice in this area, including: Arena Now-Norwegian Offshore Wind, Carbon Capture & Storage Association, Nuclear Industry Association, Renewable Energy Association, Renewable Energy Foundation, ShaleGasInfo.eu and UK Sustainable Development Association. This is a booming sector and we are confident that the show will very quickly establish itself as a must-attend biennial event – further bolstered by its already established and highly successful colocated exhibitions."
Co-location
The new exhibition will be co-located with DFA Media's established biennial shows; Drives & Controls, Plant & Asset Management, Air-Tech, and Fluid Power & Systems. These complementary events are themselves co-located alongside MACH and National Electronics Week, creating the UK's biggest engineering event that regularly attracts over 40,000 delegates. European Offshore & Energy 2014 is also supported by Upstream Design & Engineering Europe (UDEE), together with the publisher's long-established portfolio of titles; Hydraulics & Pneumatics, Plant & Works Engineering and Drives & Controls.
In the wake of record attendance during its 2012 co-located shows, DFA Media is optimistic that the addition of European Offshore & Energy to the portfolio will exceed both the exhibitor and visitor numbers of the 2012 event. In 2012 the co-location attracted 11,146 visitors. This represented an increase of 29% from the 8624 attendance figure of the 2010 shows.
Seminar programme
As well as the extensive range of offerings showcased across the exhibition floor, European Offshore & Energy will also feature EnergyDialogue, a three-day conference covering a host of energy issues together with product/solution analysis.
EnergyDialogue will ensure delegates receive all the information they need directly from leading authorities, policy makers and expert practitioners. Additionally, TechKnowledge, a three-day seminar programme, will feature a packed programme covering everything from detailed analysis of proven existing technology to the latest industry innovations.